Peter Polesel
Business Background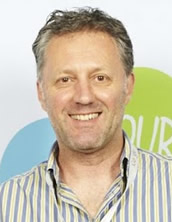 Peter Polesel has worked in both the corporate sector and the small business sector for over 20 years. He holds a Bachelor of Commerce Degree from the University of New South Wales having majored in Marketing.
Prior to starting his own marketing and online consultancy, Peter worked in marketing and sales roles for a variety of leading companies including Hoechst, AMP, Knebel Kitchens, Pink Pages and Atlas Copco.
Through his marketing and consultancy services, Peter has delivered successful programs for organisations such as Westpac, Fujitsu, BOC, Panasonic, St George Bank and Local Government Councils.
Presenter & Speaker
Peter has presented keynote addresses, seminars and workshops for many organisations and associations including eBay, PayPal, and Tourism Australia to name a few.
Peter was a frequent guest speaker and workshop facilitator for the NSW Government Buisness Week Seminars.
He has delivered training workshops on eMarketing/Promotion for:
The Women in Business Program
The Young Entrepreneurs Program
NSW TAFE
The BEC Network (Govt Funded Business Advisory Network)
Small Business Week Workshops (NSW Government BusinessNSW)
A variety of peak body organisations
He has also developed an online marketing mentoring program for the NSW Government.
Young Entrepreneurs Mentoring Program
Women in Business Program
Workshop Facilitator
Peter is a frequently guest speaker and workshop facilitator for the NSW Department of State & Regional Development and has run web marketing workshops throughout NSW for the Department.
His training workshops and seminars have featured Small Business Week for the last few years and he has delivered workshops for the Department's Women in Business Program and the Young Entrepreneurs Program.
He has also lectured in sales, marketing and consumer behaviour for
Williams Business College
William Blue International Hotel Management School
NSW TAFE
Marketing Awards
Peter has won marketing awards from NEC Computers, University of New South Wales and the advertising industry.
Community Involvement

Peter volunteers his services as a panelist and trainer on the government sponsored NEIS (New Enterprise Incentive Scheme) which provides people who have been unemployed the opportunity to start their own business.